Posted by Andrew.
What's the fastest web browser in the "Real World"? No surprise here – the winner is Google Chrome.
According to a report by TechCrunch, the data was collected over a period of a month, capturing 1.86 billion measurements over 200 websites, Google Chrome has been crowned the fastest web browser in the "Real world" by Gomez (Gomez is a benchmarks division of Compuware, it's the industry's leading solution for optimizing the performance, availability and quality of web, non-web, mobile, streaming and cloud applications).
For page load time, Google Chrome 12 (3.43 seconds) was about a half-second faster than its nearest rival, Firefox, with Safari and IE another half-second behind. On the high end is Apple's Safari 4 (6.149 seconds) and IE 7 (6.006 seconds). For perceived time, Firefox 4 (2.18 seconds) edged ahead of Chrome.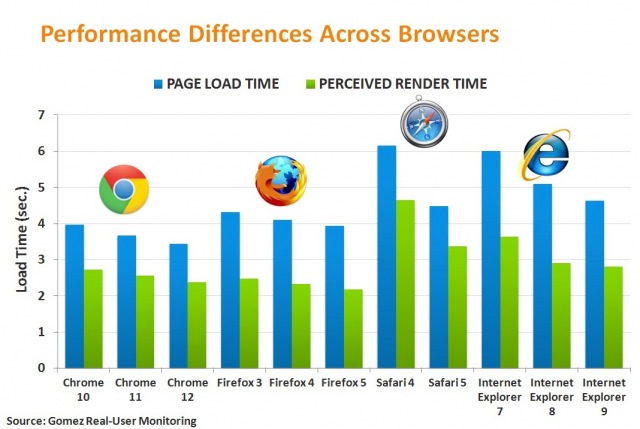 Performance differences accross browser: Chrome, Firefox, Safari, Internet Explorer
Other resources about speeding your browser
Goole VS Firefox, IE, Safari in speed test - Stephen Shankland posted Speed test: Google Chrome beats Firefox, IE, Safari at CNET.COM on September 2, 2008, it shows Google Chrome overpowers the other browsers(Google Chrome Beta, IE 8 beta, IE 7, Safari 3.1.2 and Firefox 3.0.1) on the five subtests by which Google measures its browser's JavaScript performance.
Google Chrome Blog: Faster than fast - Well, you might have to wait for Instant Restaurants and Instant Elevators, but Instant Pages is available today in the latest beta release of Chrome. Thanks to Chrome's new prerendering technology, some Google.com search results will appear to load almost instantly after you click on them.
How to increase browsing speed: 7 ways to work faster on slow connections - Ever wonder how to make your Internet connection faster or how to increase browsing speed? If you are trying to get things done, there is nothing like a slow connection to thwart your best efforts. But there are things you can do to browse faster—even when your Internet connection is working slowly.
12 Tricks To Increase Your Firefox Speed By A Noticeable Amount - With this tutorial you will be able to explore the hidden speed of Firefox which will boost the speed of Firefox and make your Firefox much more faster.