If you want to visit Chrome Downloads Manager, there are 3 ways by normally:
1. Click the menu "Tools | Downloads";
2. Press the key "Ctrl + J";
3. Type "chrome://downloads/" in address bar.
However, pressing Ctrl+J is just so hard, clicking menu or typing commands takes a "long time", so I developed a simple extension for lazy man: Visit Chrome Downloads Manager directly by one click from toolbar. :) The first version of Chrome Downloads Extension was released on March 08, 2010. I released a major update this week.
Install Chrome Downloads Extension
Chrome Downloads Extension is a free plugin for Google Chrome browser and can be installed from Google Chrome Web Store. To install it, just follow the steps below:
Visit Chrome Downloads Extension page in Chrome Web Store.
Click the button ADD TO CHROME.
Update Chrome Downloads Extension
Google Chrome automatically updates whenever it detects that a new version of the browser or the extensions is available. The update process happens in the background and doesn't require any action on your part. If you have installed Chrome Downloads Extension, the new version will automatically be updated within 24 hours. If you want to manually force update it right now, there is an article: How to manually update Chrome extensions.
The screenshot of Chrome Downloads Extension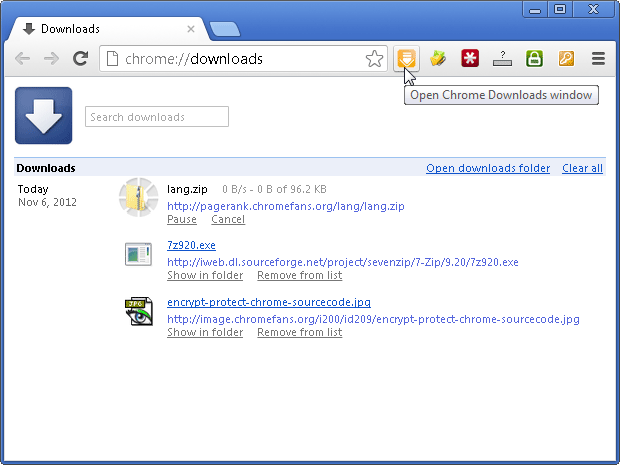 Updates history of Chrome Downloads Extension
Version 2.0 (Nov 07, 2012)

Fully compatible with Chrome version 22.0
User-friendly interface for Options window

---

Version 1.2 (Mar 18, 2010)

Added Options window. You can select open Downloads Manager in a new tab or a popup window.

---

Version 1.1 (Mar 10, 2010)

Added a feature to prevent openubg multiple instance of Downloads Manger window. If Downloads Manager window has been opened in background, the extension will active it.

---

Version 1.0 (Mar 08, 2010)

Visit Chrome Downloads Manager by one click from Chrome toolbar.

---
If you have any suggestion about this extension, just leave your comments here.
Help translate Chrome Downloads Extension to your language
Chrome Downloads Extension supports for multi-language, it can be easily localized to any language. the project simply saves the language package as a TEXT file, you can edit it with any text editor, such as Microsoft Notepad, Notepad++ etc. If you would like to help make it available to more users by translating it into your favorite language, please simply follow the steps below:
Download lang.zip and lang-global.zip, and then pack to a folder.
Copy en.php and en-global.php to new files with your language code. For example, if you want to translate the files to Japanese, the new filenames should be ja.php and ja-global.php. If the files named with your language code already exists, please ignore this step.
Edit the language files copied in step 2 with any text editor, such as Notepad++(Strongly recommended), Microsoft Notepad etc.
Save the files with UTF-8 format, and send them to . I will make it available ASAP once I received your translation.
Thank you for your help! :)