Google Chrome is a fast, easy and safe web browser. It automatically blocks pop-ups from showing up automatically, you can choose whether you want to be notified when pop-ups have been blocked for a site. But at this time Chrome does not allow users to block sites manually. However, you can edit the Windows HOSTS file, anything blocked Windows-wide will impact Google Chrome. This article shows how to block pop-up page and website.
How to block pop-up page in Google Chrome
Click the Tools menu, then select Options.
Select Under the Hood tab, then click Content settings button.
Click Pop-ups tab, then click Do not allow any sites to show pop-ups.
You can customize permissions for specific websites by clicking Exceptions.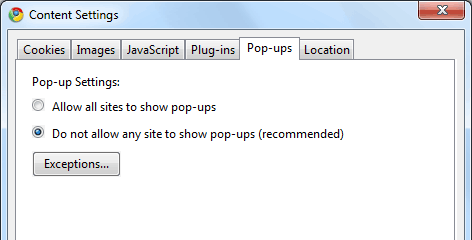 Hot to block a website in Google Chrome
To block a website in Google Chrome, the best way is either editing the HOSTS file, or installing firewall software. To editing the HOSTS file, please follow the steps below:
Open Windows Explorer, locate to the folder "C:/windows/system32/drivers/etc". You can also type "C:/windows/system32/drivers/etc" in the address bar, then press Enter key.
Right-click the "hosts" file, choose "Open" and open the file in Notepad.
At the bottom of the document, add the numbers "127.0.0.1", followed by at least one space, followed by the URL of the website you want to block. For example, if you wanted to block "www.msn.com" you would enter "127.0.0.1 www.msn.com" to do so. Note: Do not put "http://" in front of the names of websites you wish to block.
Save the file and restart your computer (If you are using Windows 7 or Windows Vista, you may need Administrator permission to save the file).
Now, any attempt to visit the site you blocked in Chrome (or any other browser, internet application) will connect failed.
An example HOSTS file from my computer:
#
# This file has been automatically generated for use by Microsoft Internet
# Connection Sharing. It contains the mappings of IP addresses to host names
# for the home network. Please do not make changes to the HOSTS.ICS file.
# Any changes may result in a loss of connectivity between machines on the
# local network.
#

127.0.0.1 wx.uying.com
127.0.0.1 msn.allyes.com
127.0.0.1 play.unionsky.cn
127.0.0.1 www.UnionBig.com
127.0.0.1 www.dudu.com
Other resources about block a website on Google Chrome