You are browsing a website and suddenly you have to take note of some important points from it. What you usually do for this? May be you will open up external text programs and save the notes on it. No more you have to practice this. Try "built-in" notepad to your Chrome browser - Chromepad extension.
Google Chromepad is a small and handy extension on your Chrome browser that helps in taking quick notes from the web page you are browsing or any other important note. This extension helps you not to leave the work of taking note for some other time which you may forget. This extension is developed by Jesper Lundsgaard, you can also follow Chromepad on Twitter.
The installation of Chromepad is easy and quick: visit the Chromepad extension in Chrome Web Store, click Install button, and in few seconds the Chromepad is added to your Chrome browser. It will be displayed somewhere beside your new "Toolbar Button".
There are three ways in which you can access the Chromepad options. Those are by right clicking on the Chrompad icon, by using Chrome Extensions page or by using drop-down window itself.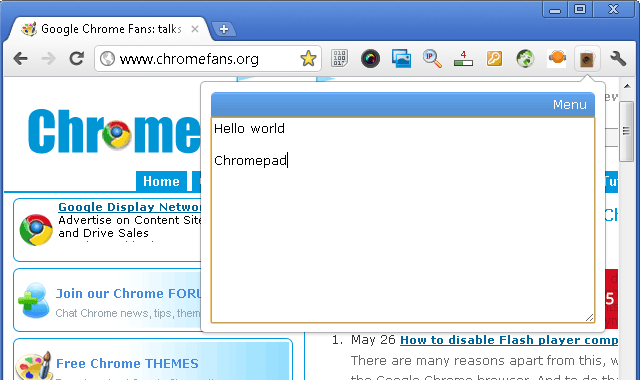 Screenshot: Chromepad Extension
The Chromepad area can be resized while you are using by easily pulling the "Extend Grip" found in the lower right corner of it. It will come back to its default size when once closed and again reopened.
All the notes that you have typed on Chromepad is auto saved and it will remain there after you restart your browser. Moreover, you can detach the Chromepad window from the browser and place it anywhere on the screen.
Presently you cannot select any preferred font of the text and it may appear different from the font settings in your browser. However, the default font looks very nice as you may see in the screenshot image.
Pros:
It simple and easy to use.
While browsing web pages it helps in easy to add notes from context menu.
One can add more than one note simultaneously and even search them later when required.
Cons:
The notes are not stored in the cloud so it cannot be viewed from any other web browser.
Images cannot be added to it.
Conclusion:
It is an extremely useful notepad and is also highly recommended to help you keep track of all your notes while browsing webpages.
Other resources about Chromepad
Tutorial: Google Chrome extension tutorial for developers - Chromium extension system is in active development. Google published a Chrome extension tutorial for developers. It is not yet ready for use by the general public. The majority of the APIs are not implemented yet, and there is no UI, no auto update system
Chrome Extension: Another simple notepad extension - A simple notepad from Japanese.
Freeware: Notepad++ - a free source code editor which supports several programming languages running under the MS Windows environment.
Posted by Andrew.