Posted by Andrew.
I developed a Chrome Downloads extension on Mar 08. With this extension, you can visit Downloads Manager directly by one click from the toolbar, it's very useful for lazy man. :)

Saket gave me a suggestion about this extension:
The plugin is not much old and further improvements can be expected in the near future. Personally what I would like to see would be a small Downloads window instead of a new tab, something like this.
This is a very useful suggestion. So I just updated Downloads extension to v1.21. In this version, you can select open the Downloads page in a new tab or a popup window in the Options dialog. To adjust this setting, please follow the steps below:
Click menu Tools -> Extensions, open Extensions Manager in Chrome.
Click Options button in Chrome Downloads section.
There are two options:
Open Downloads page in a new tab
Open Downloads page in a popup window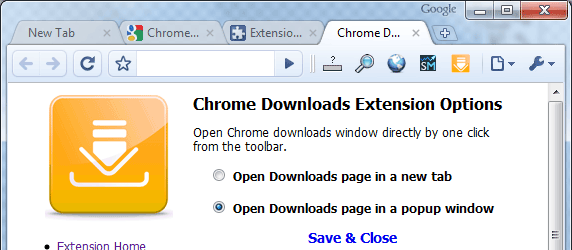 Select one option and then click Save & Close
To use latest version, please visit Chrome Downloads Extension, and then click Install button.
Thanks Saket!
Other resource