Posted by Andrew.
I just updated PageRank Status extension for Google Chrome to version 3.0, it's compatible Chrome stable 4.0 and Chrome dev/beta 5.0 now. I have uploaded it to official Google Chrome Extensions gallery, you can direct install this extension from here.

PageRank Status is a Chrome SEO extension for webmaster. With this extension, you can view the Google PageRank and Alexa Rank of the current web page, quick access to Whois, Alexa, backlinks and indexed pages in a popup window.
How to install PageRanks Status Extension
Make sure your Chrome version >= 4.0 or dev 5.0
Click Install button
A Confirm Installation dialog shows, click Install button.
The screenshot of PageRanks Status Extension v3.0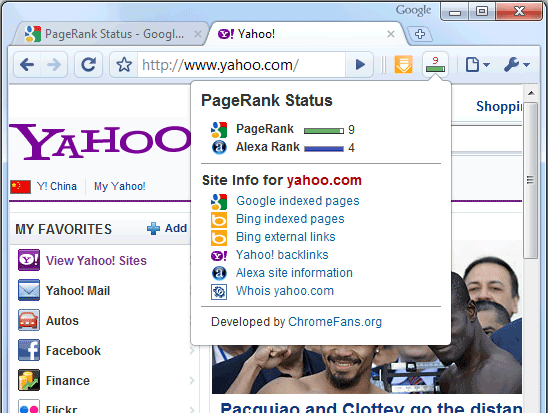 Note: If you want view the Google PageRank in toolbar icon like above screenshot, you must install Chrome dev/beta version. The current stable version of Chrome doesn't support for this feature, you must click the toolbar icon and then view the PageRank in the popup window.
If you have any suggestions about this extension, please leave your comments here. :)
Other resource