Want to receive WordPress.com notifications instantly, even when you're not on WordPress.com?
WordPress announced the launch of a new WordPress.com Chrome extension on January 27, 2012, which gives you view your WordPress.com notifications, follow sites, and start new blog posts quickly and easily while you're away from WordPress.com. It's a great tool for Chrome users and WordPress.com Bloggers. Blogging is really a fun now.
Features of WordPress.com Chrome Extension
View your latest WordPress.com notifications
Start following new blogs without visiting WordPress.com
Quickly post cool stuff you find while browsing the web
The screenshot of WordPress.com Chrome Extension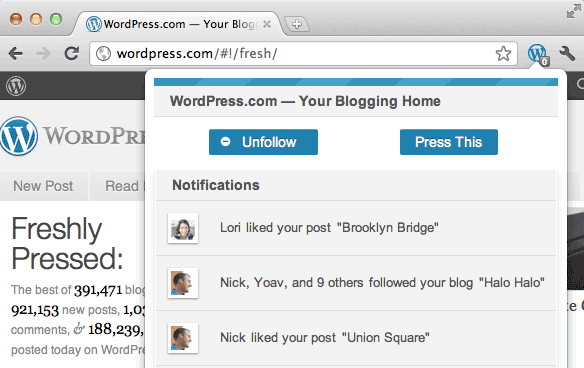 Other resources about WordPress
WordPress.com - Free blogs managed by the developers of the WordPress software. Includes custom design templates, integrated statistics, automatic spam protection and other ...
WordPress.org - A semantic personal publishing platform with a focus on aesthetics, web standards, and usability.