Posted by Andrew.
Deciding to own a website is like going aboard a big challenge which could prove to be highly rewarding in the future. You should think of an idea of your new website, try not to copy other's ideas but try to form your own style, create a website with a topic which you strongly love.
To create you own website, there is an beginner's step by step guide on howtomakeawebsite.net. It shows you how to make a web site for beginner and layperson, taking you step by step through the whole process from the very beginning:
How to choose a domain name?
How to get a hosting plan?
How to installing WordProess?
How to choosing a template for your site?
How to customizing your design?
How to increase your website traffic?
How to promote your website with social media?
...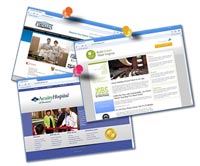 You can also find some articles about website and blog creation on wikiHow.
As you know, internet users have an increasing number of choices for web browsers today, including Internet Explorer, Firefox, Safari, Opera, and now Google Chrome. Sometimes web pages look and work differently in each browser, so it's important to test your site across all of them to ensure all your visitors can enjoy the experience you've designed.
To make your site look good in Google Chrome, explore the Chrome webmaster FAQ and look at Google Doctype open reference library for web developers that includes articles on best practices and test cases for checking cross-browser and cross-platform compatibility. You can also join Google webmaster forums to ask and get advice from fellow webmasters.
Other resources about webmaster and Google Chrome