Google Chrome can save your usernames and passwords for different websites. The browser can then automatically complete the sign-in fields for you when you next visit these websites, so that you do not have to type it the next time.
All these passwords -- including the passwords you've saved from other browsers -- can be synced to your Google Account, so that they are available on other computers you're using.
However, don't you think that this can be a security problem? Well, any smart person would guess so. If anyone is using your home PC and makes a login to the website, he/she will also be signed in with your username and password and gain access to your accounts. For security reason, you may want to remove the password from Google Chrome, just follow the steps below:
Click the wrench icon tools menu on the browser toolbar.
Select Options (Preferences on Mac and Linux; Settings on Chrome OS).
Click the Personal Stuff tab, then click "Manage saved passwords" to to see a list of all the usernames and passwords that have been saved.
Windows, Linux, and Chromebook users: In the Passwords dialog that appears, use your mouse to hover over the site whose password you'd like to remove and click the x that appears on the right.
Mac users: You can remove your passwords in the Keychain Access dialog that appears.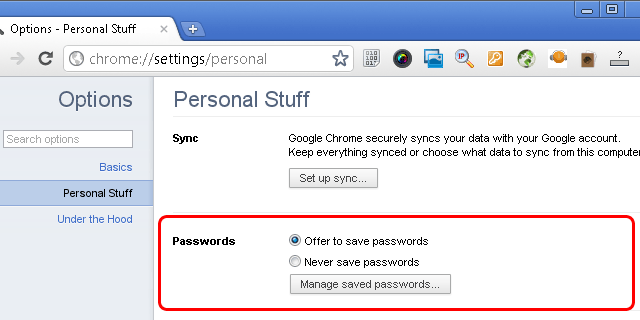 Screenshot: How to delete saved password from Google Chrome
Other resource about password and Google Chrome