The New Tab page in Google Chrome is what you see when you open a new tab in Google Chrome, it's designed to get you to your favorite apps and sites, as quickly as possible. It defaults to thumbnails of the nine most visited web pages you have browsed, you can just click a thumbnail to visit the site. Many users love this feature as you can quickly return to the websites you most often visit. If you want to remove these most visited thumbnails from your Google Chrome new tab page, please follow the steps below.
Remove a single most visited site
Lanuch Google Chrome, then start a new tab.
Click and drag the thumbnail to the Remove from Chrome trash can. Alternatively, you can remove it by clicking the X icon in the upper right corner of the thumbnail.
Remove all most visited thumbnails
Launch Google Chrome, then click the menu Options -> Under the hood -> Clear browsing data. You can also direct type chrome://settings/clearBrowserData in the address bar.
Obliterate the following items from The begining of time
Clear browsing history
Clear download history
Empty the cache
Click the button Clear browsing data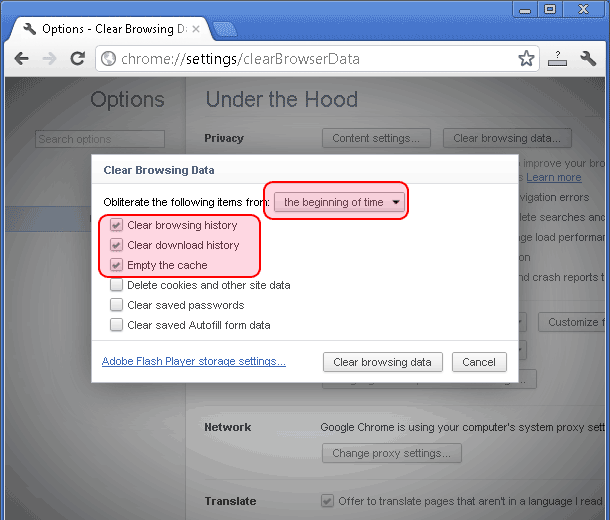 You can also install Click&Clean extension. This security extension deletes your browsing history, typed URLs, Flash cookies, all traces of your online activity to protect your privacy.
Other resources about Google Chrome new tab