Lots of people are having problems with Chrome and Facebook. You can try the ways below:
Log out of Facebook completely and clear your browser cache.
Try using Facebook through a HTTPS connection. If this works, you can set Facebook to go to a HTTPS connection all the time by going to Account -> Account Settings -> Account security.
Your browser user profile may be corrupted, you can try to create a new user profile to replace the broken one.
Completely uninstalling and then re-installing your Google Chrome.
Try opening the website under another user account on your computer.
Update your Google Chrome to the latest version. You can check it by clicking the menu: Wrench -> About Google Chrome and allow Chrome to update. You can also directly download it from Google and then install it.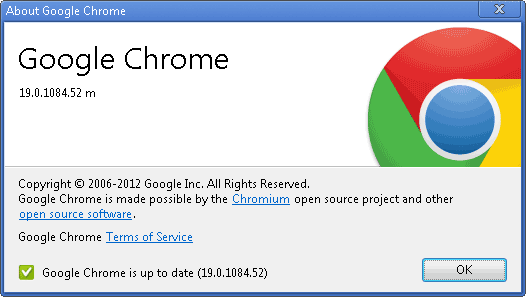 Screenshot: Update your Google Chrome to the latest version
Disable all browser plugins/themes/extensions.
Your computer may have been infected by a virus or malware, consider running a full security scan with reputable, up-to-date antivirus software such as Microsoft Security Essentials, McAfee or AVG.
if all else fails, it may not be the fault of your computer, but rather that Facebook itself is having issues. You can check the status of known issues on Facebook.

#1
Tonychen
posted on June 08, 2012 22:04 PDT
Why is my Chrome can't open Facebook. I was a student in China, thank you!
Andrew
replied on June 10, 2012 01:21 PDT:
Because GFW blocked Facebook in China.
#2
Rahul Roy
posted on July 04, 2012 04:39 PDT
How to fix problem with facebook on Google chrome in one simple step? Delete your facebook account :D
#3
Emma@Mobile Device Management
posted on August 12, 2012 23:24 PDT
I have problem with Facebook also.
#4
Nripen Chandra
posted on September 18, 2012 11:37 PDT
Facebook use efficiently in Mozilla Firefox, So use Firefox & enjoy Facebook
#5
Brad
posted on September 18, 2012 14:05 PDT
It is now September, and I have continued to have issues with Google Chrome and Facebook. When loading a Facebook app, the browser does not load in the stylesheet producing a jumbled mess of content.

Oddly enough, the same app works fine on IE, Firefox, Safari, and Opera. I have tested every browser on both PC and Mac. Both produce the same results. Chrome is the only verdict. This is clearly an issue with Google that needs to be addressed.

As a web designer, the obvious goal is to make everything consistent, regardless of the browser. Can anyone give the slightest update on this?
#6
serkan
posted on September 30, 2012 10:51 PDT
I have problem with Facebook also.
#7
maulana
posted on October 06, 2012 07:38 PDT
fix facebook problem
#8
Caitriona Shanahan
posted on December 07, 2012 06:11 PST
Running Chrome ver23.0.1271.95 m on Windows 7

Facebook website not loading fully (failing to load updates at the left side of the page). Also unable to load messages page - just get a blank screen.

No probs with facebook on either IE or Firefox.

Problem has existing for approx 5 days - since last Chrome update

Have uninstalled and reinstalled Java and Flash
#9
Nicola
posted on December 12, 2012 14:27 PST
I can't access either Facebook pages or gmail. Help.
#10
Mike C
posted on February 15, 2013 12:34 PST
This is not a fix for the Facebook refresh issue.

The author has given us BASIC TROUBLESHOOTING STEPS that you would do with ANY BROWSER PROBLEM. Not specific to the Facebook refresh issue with Google Chrome.

Which mean he is just guessing what will fix the problem, but doesn't know the actual fix for the problem. Essentially insulting our intelligence.

We are looking for a SPECIFIC FIX for a SPECIFIC PROBLEM. Not some random generalization just to get the author's name in lights.

Quit wasting our time with BASIC COMMON KNOWLEDGE.
#11
Mike7
posted on August 06, 2013 23:03 PDT
last night my facebook opened successfully and was working fine. today when i opened it says cannot load page .i dont know what has happened. anyone help. i have tryed alot of stuff but still no luck.
#12
Youssef
posted on September 03, 2013 05:47 PDT
Watch this video it's helpful https://www.youtube.com/watch?v=UYpoBAjgnvo
#13
Youssef
posted on September 03, 2013 05:50 PDT
Watch this video it's helpful https://www.youtube.com/watch?v=UYpoBAjgnvo
#14
jessy
posted on October 25, 2013 05:01 PDT
I could'nt logout of my facebook account...and it is directing towards general settings when i try to log out