What is LastPass
LastPass is easy, secure password and data management. Not only is the LastPass Password Manager free, it saves you time while keeping you safe. It is available as a plugin for Internet Explorer, Mozilla Firefox, Google Chrome, Opera, and Safari. It offers a premium subscription that includes iPhone, BlackBerry, Android, Windows Phone, Windows Mobile, WebOS and Symbian applications.
Passwords in LastPass are protected by a master password and are encrypted locally and are synchronized to any other browser. LastPass also has a form filler that automates password entering and form filling. It also supports password generation, site sharing and site logging.
What is Google Authenticator
Google Authenticator is for Google users enrolled in 2-step verification. The Authenticator provides a six digit number users must provide in addition to their username and password to log in to Google services.
LastPass now supports Google Authenticator as a multi-factor authentication option.
How to use LastPass with Google Authenticator
The requirements that using LastPass with Google Authenticator:
The latest version of LastPass browser extension or mobile client.
A supported mobile device to run Google Authenticator application.
To set up LastPass with Google Authenticator, please follow the steps below:
Install the Google Authenticator application on your mobile device. Google officially supports Android, iOS (iPhone, iPod Touch, or iPad), and BlackBerry devices. There is an article on Google: Installing Google Authenticator.
Launch Google Authenticator on your mobile device.
Go to https://lastpass.com/?ac=1&opengoogleauth=1, follow the instructions there to finish setting up Google Authenticator. You will be prompted to use a Bar Code scanning app (Androids, iPhones and supported devices with cameras) to scan your unique bar code, or you can manually enter the Google Authentication Key found on that setup page.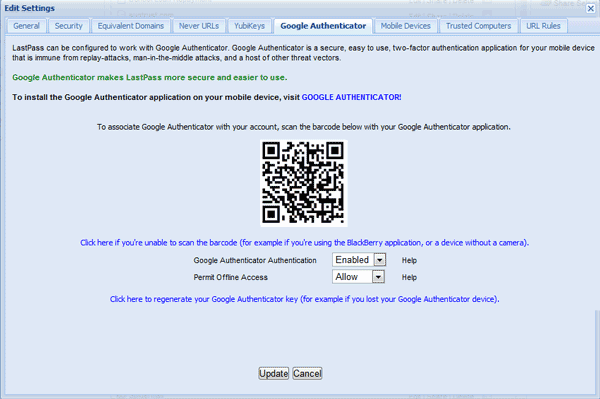 Other resources about LastPass or Google Authenticator