The speed and simplicity of Chrome, now on your Android phone and tablet.
Google launched a beta version of Chrome for Android today, bringing popular features from the desktop version to smartphones and tablets.
"Today, we're introducing Chrome for Android Beta, which brings many of the things you've come to love about Chrome to your Android 4.0 Ice Cream Sandwich phone or tablet. Like the desktop version, Chrome for Android Beta is focused on speed and simplicity, but it also features seamless sign-in and sync so you can take your personalized web browsing experience with you wherever you go, across devices." Google said in a blog post Introducing Chrome for Android.
Want to install Chrome for Android on your smartphone ot tablet? there is a tutorial.
The features of Chrome for Android beta
Browse fast with accelerated page loading, scrolling, and zooming
Search and navigate directly from the omnibox
Open and switch between unlimited tabs in an easy-to-view stack
Sign in to Chrome to sync your bookmarks and view tabs you have open on your computer
Send pages from desktop Chrome to your smartphone or tablet with one click and read them on the go, even if you're offline
Browse privately in Incognito mode
The requirements of Chrome for Android beta
Android 4.0+, Ice Cream Sandwich
In the following countries:

United States
Canada
United Kingdom
France
Germany
Spain
Australia
Japan
Korea
Mexico
Argentina
Brazil
The screenshos of Chrome for Android beta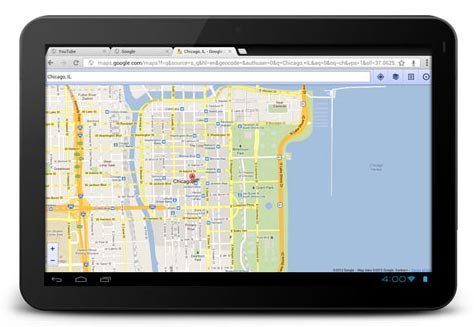 Screenshot: Google Chrome for Android Beta - 1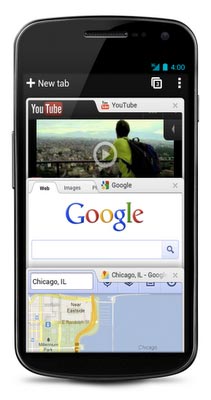 Screenshot: Google Chrome for Android Beta - 2
The user reviews of Chrome for Android beta
Rey on February 8, 2012 (Samsung Galaxy Nexus with version 0.16.4130.199):
Great for beta. Fast, great so far. People are so dumb, it's beta people give it time. No beta is perfect geesh! Also, adobe said months ago they were discontinuing mobile flash development/ support! Get educated before you comment.
Mathias on February 7, 2012 (Version 0.16.4130.199):
Feels more like an Alpha than a Beta. I love chrome, I use it everyday. Chrome on Android is a step in the right direction, although we are missing some major features. Benchmarking around 75-95k on my Transformer Prime is okay, but no flash support :( no support for ctrl+w and crtl+t on an attachable keyboard. Remote debugging is great feature, and having it synced with your desktop chrome is nice, but we are still missing some core features that should have been implemented first.
Geezagame on February 7, 2012 (Samsung Galaxy Nexus with version 0.16.4130.199):
Excellent. Seems pretty slick so far, loving the way you can slide the screen between tabs. Massive improvement over stock browser on my Galaxy Nexus.