PageRank Status 5 is available now!
PageRank Status is a Chrome SEO Toolbar, it's a really SEO extension for Google Chrome to easily access the Google PageRank (PR), Alexa Rank, Compete Rank and Quantcast Rank of the current web page, in addition to getting information on backlinks, indexed pages, cached pages, socials, Whois, Geo IP location and more.

The 1.0 version of PageRank Status was released on Jun 01, 2009. I try to perfect this free product as far as I can. Now, PageRank Status 5 is available, I integrated a new interface in this version. You can check all SEO data (Google PageRank, Alexa Rank, Backlinks and more ) by one clicking without leave the current page! You can install it from Chrome Web Store.
I am working for the next version of PageRank. If you have any suggestions about this extension, please send an E-mail to

, or leave your comments here.
The screenshot of PageRank Status 5: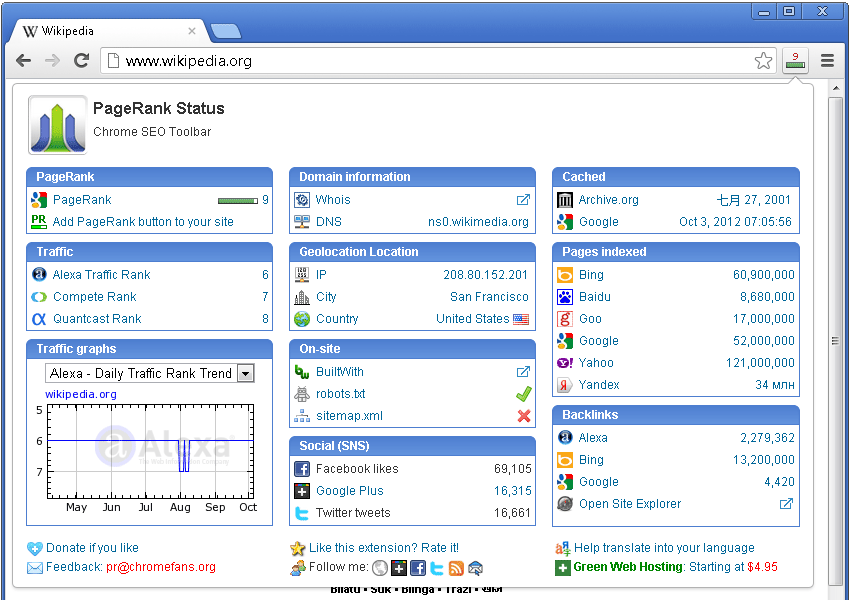 Click for large preview: Screenshot: Chrome SEO Toolbar: PageRank Status 5
Add PageRank Checker button to your site
Do you want to show the current Google PageRank value of your web pages on your sites? I developed a new feature in version 5 and you can add a small piece of code to any page on your sites. You just need to enter your site URL below and it will generate the HTML codes for you. - It's FREE!
There are the examples of the PageRank Status Checker icon that show the current Pagerank value of the page https://www.chromefans.org:
Help translate PageRank Status extension into your language
PageRank Status supports multi-language and can be easily localized since version 4.0. The current version of PageRank supports Català, English, Français, italiano, Nederlands, Türkçe, 简体中文 and 正體中文. Could you like to help make it available to more users by translating it into your favorite language?
The language package is less than 150 lines. In order to translate PageRank Status into your language, you can simply follow the steps in this article - Translate PageRank Status extension into your language.