Posted by Andrew.
If you are a Firefox user but you like the interface style of Google Chrome, Chrome Frame is the best choice for you.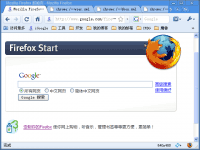 Chromin Frame is a Firefox add-ons that developed by Zero Fire, it places the tab bar at the top of window, and replaces the title bar and window frame bringing it closer to the Chrome look. Chromin Frame does not depend on any particular theme, however, you could choose Chromifox theme to give your Firefox a completely Chrome look.
Other resource about Firefox add-ons and Chrome
Google Chrome Extensions Compilation - some simple and nice extensions since Google announced design documents for Chrome extensions.
Chromifox Basic - Chromifox is a bright and soft blue theme for Firefox on Windows, Linux, and Mac OS X, inspired by the appearance of the Google Chrome browser and its open-source roots, Chromium.
Firefox Add-ons - Add-ons extend Firefox, letting you personalize your browsing experience.