Posted by Andrew.
Bijoy Thangaraj just sent me an extension for JoyRack Games (http://www.joyrack.com). This extension displays latest games from JoyRack.com and lets the user read the description of the game, view its category and launch it directly. The extension also updates automatically to the latest version when a new version is made available.

The screenshot of JoyRack Games extension
About JoyRack Games: Play hundreds of free online games, includes Action Games, Racing Games, Classic Games, Sports, Fun Games, Puzzles, Games for Kids, Most Popular Games, etc.
Download & Install JoyRack Games extension for Chrome
The extensions requires Chrome developer version. If you have installed, right click the Chrome icon in your desktop, then click Properties, click Shortcut tab, add --enable-extensions parameter in the Target field, as it is shown in the figure: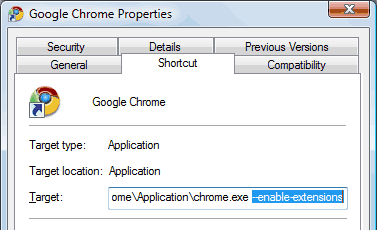 Screenshot: Instructions to enable extensions for Chrome
Thanks Bijoy Thangaraj!
If you are a theme designer/extension developer and would like me to list your themes, plug-ins or extensions here on ChromeFans.org feel free to send an email to

, subject with Chrome Submit. Please include a brief description and a download link, you can also direct attach it in email.
Other resource about Google Chrome Extensions and games