Posted by Andrew.
Regarding to Google, "Google Chrome is a browser that combines a minimal design with sophisticated technology to make the web faster, safer, and easier". Unfortunately, Google Chrome is using a client_id variable which is unique for every Chrome user, and which can be used to create exact user profiles of a user's actions while using Google Chrome. More information about Chrome unique ID, there is an article from Google official document: General privacy: Privacy, unique IDs, and RLZ.
To protect your privacy and remove the unique ID of Google Chrome from your computer, there is a FREE tool that developed by AQLSoft.com - Chrome Privacy Protector, it automatically deletes the unique Client ID before each run of Google Chrome.
Guidelines: Remove the unique ID of Google Chrome from your computer
Download Chrome Privacy Protector from AQLSoft, and then install it.
Close all Google Chrome windows that it is currently launched.
Launch Chrome Privacy Protector, and then click the "Remove unique ID now" button to anonymize your Google Chrome.
The screenshots of Chrome Privacy Protector
Screenshot: before deleting Google Chrome unique ID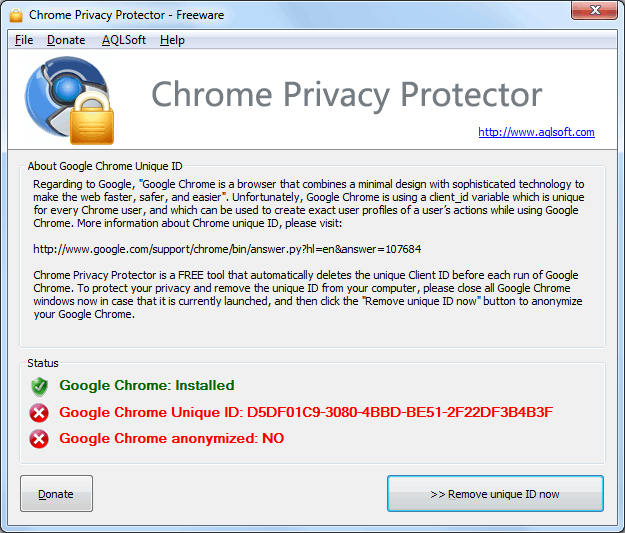 Screenshot: after deleting Google Chrome unique ID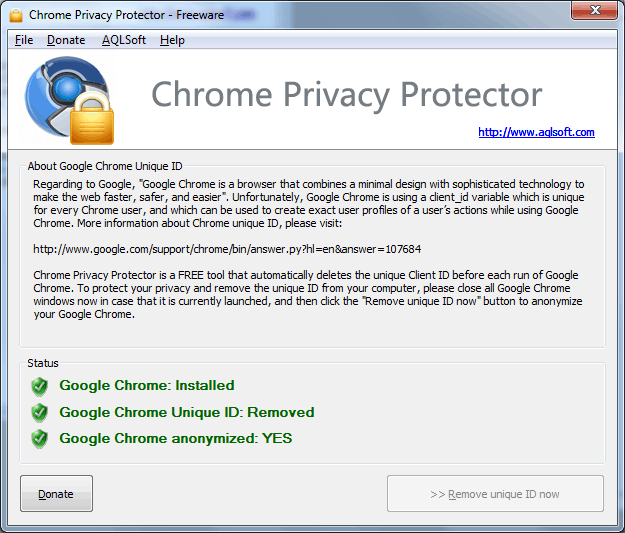 Other resource about Google Chrome and Security