Posted by Andrew.
Google Chrome Dual View is a Bookmarklet (Javascript plug-in) that developed by chromeplugins.org. with this plugins, you can split your Google Chrome browser in same tab. The description from chromeplugins.org:
This will enable you to create 2 side by side "panels" in Chrome in the same tab so you can browse two sites at once side by side.
See examples: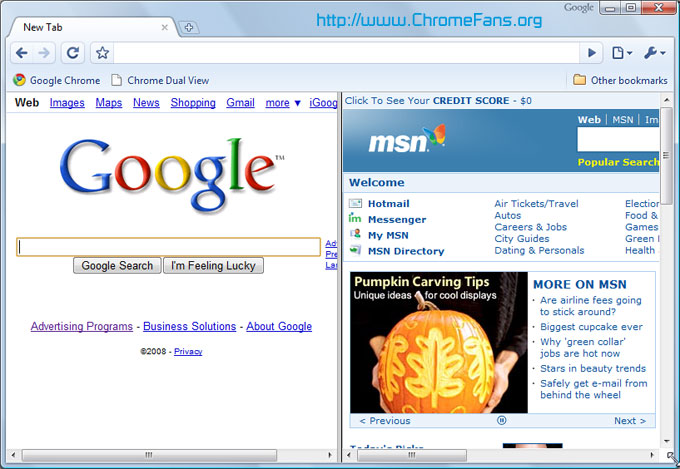 Install Google Chrome Plugin: Dual View Plugin
Install Google Chrome Dual View plugin is very easy, just simply drag and drop the following in your bookmarks:
Make sure your bookmark shows on browser(Click menu: Tools -> Always show bookmarks bar)
Drag and drop the above link in your bookmarks:
How to use Google Chrome Dual View?
Click Chrome Dual View on your bookmarks bar.
A pop-up box asks for the first URL which will be the left panel, enter the first URL and then click OK
A pop-up box will ask for the second URL which is the right panel, enter the URL and then click OK
Thanks chromeplugins.org.
Other Resource about Google Chrome Plugins