Posted by Andrew.
In Google Chrome, the Omnibox feature combines a browser's address bar and search box into one single area at the top of the browser window. You can also use it to bookmark websites and see security information about your current webpage. Here are all the ways you can use the address bar:
1. Go to web address
Type the URL of the web page (e.g. https://www.chromefans.org), then press Enter key or click the Go to ... icon button at the end of the bar.

2. Search the web
Enter a search term there, and you'll generate a search that hits your default search engine: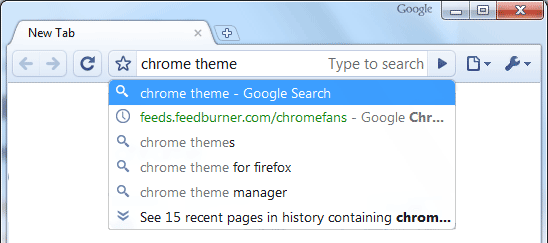 3. Create a bookmark
If you come across an interesting webpage that you'd like to revisit at a later point, click the star icon

to create a bookmark.

Edit the bookmark's name in the Name field.
By default, the bookmark is filed in the bookmark folder that was most recently used. Use the Folder drop-down menu to choose where you want to store the bookmark.
Undo the addition of the bookmark by clicking Remove.
If you want to change the bookmark's URL, click Edit. Other, click Close to add the bookmark.
4. Search your bookmarks and browsing history
Whenever you type in the address bar, Google Chrome automatically searches your browsing history and shows you websites in your history that match what you've entered. The address bar can also automatically show you suggestions of related search terms and websites.
5. See the security status for the page you're on
Improved search functionality is not where the power of the Omnibox ends, however. It's also a tool to help you know that you're surfing on safe websites. For example, if you enter a website that is secured using SSL security, you'll notice that the "https" that indicates a secure website appears in green. If there's a problem with the security, you'll see the "https" in red with a slash through it.

Other resource about Google Chrome Omnibox